Google Play Store is arguably the best place to find content and apps for your tablet or other mobile device. Between the millions of applications, exciting games, and practically unlimited media content in the form of music, magazines, books, etc., the Play Store has something for everyone and can provide countless hours of entertainment, as well as helpful tools to make your day to day life a little easier. So if you powered on your Android tablet for the first time, only to discover that it didn't come with Play Store, you would have every reason to be disappointed. How could this happen? Aren't Android devices supposed to come with Google Play Store already?
If you've found that your Android tablet doesn't have Play Store installed, there are a few reasons why this could have happened. If your tablet was purchased at a very low price from China, chances are good that it's a clone device, in other words, not an official Google device. If you bought your tablet second hand, it might have been rooted by the previous owner. Whatever the case, something happened to your tablet before it got to you that left it without Google's official certificate. Since the Google certificate is what allows the tablet to be preinstalled with Google apps, such as Gmail, Hangouts and yes, Play Store, without the certificate you'll have to find another way to get the Google apps onto your tablet. After reading this article, you'll be able to do just that.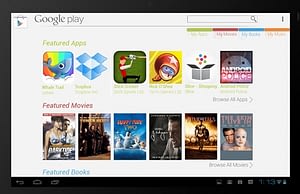 The first thing we need to do is check that your tablet's version of Android operating system is compatible with Google Play Store. Your tablet needs to be running Android OS 2.3 or newer in order to be able to download Play Store. You can check your operating system version under Settings, and going to About Device. If it's less than 2.3, you can try to force it to update to a newer version, but some devices are too old to do this. That's okay; if your device can't run 2.3 or higher, you can follow these same steps, but you won't be downloading Play Store, you'll be downloading its predecessor, called Android Market. If your tablet has OS version 2.3 or higher, you're good to go and will be able to easily download Play Store.
Next, you need to change the security settings on your tablet so that you can install the Play Store (or Android Market, if running less than version 2.3) from a source other than the Play Store. You can do this by going to Settings again, then go to Security, and check the box next to "Unknown source- Allow installation of apps from sources other than Google Play Store". Since your version of Play Store is coming from an external source, this step is critical. If you don't change your security settings in this way, you won't be able to install the Play Store file.
Once your security settings are correct, you can open up your internet browser and search for "download Play Store APK". APK is the file type that Android OS will execute, and there are many websites that have free downloads for the Play Store APK file. Just find one, click download, and wait for the download to finish. When it's finished, you should receive a notification in your notifications bar.
When the download is complete, you can open the file up by tapping on the download notification that we just mentioned. After you open it, there will be onscreen instructions for you to install the Play Store.
Alternatively, if you can't use the internet on your tablet for some reason, you can follow the same steps on your desktop or laptop computer and then transfer the Play Store APK file to your tablet with a USB cable. This makes things slightly more complicated because you'll need to download an Android file browser application from the internet in order to find the file and install it, but it will be worth it to be able to take advantage of everything available in the Play Store.
And there you have it! It's that simple. Once you've got your Play Store file installed on your tablet, you're ready to use it to search for apps, games, music and more.