Luckily, most Android devices now come with Google Play Store already installed, and, depending on what version of Android OS your smartphone or tablet is running, it should update automatically whenever appropriate for your device. You can then enjoy the millions of apps, games, music, books and periodicals that the Play Store gives you access to. However, this tutorial is specifically written for people who have an Android smartphone that does not come with Play Store already installed.
This article will walk you through the steps needed for a Play Store download for smartphones that do not already have Google Play Store installed, which can happen for a variety of reasons. The most common reasons for this is that the Android smartphone has been rooted by the owner, or it was already rooted by a secondary manufacturer and arrived to you in this condition (this is usually a problem with cheap smartphones purchased from China). The device could also be a clone (again, usually Chinese). Whether your device has been rooted or is a clone, it means that it isn't officially certified by Google, which means it won't come with the standard Google applications preinstalled (Google, Play Store, Gmail, etc.). Fortunately, there is a way to get around the lack of certificate from Google so that you can download the latest version of Play Store to your smartphone. Once you've gone through these steps, you'll be able to access everything Play Store has to offer, including over 1 million applications, many of which are free, which make daily life simpler and more entertaining.
First, you'll need to check what version of Android operating system your smartphone is running. You can do this by finding Settings and selecting About Phone. This is important, because if your smartphone is running a version older than Android 2.3, you won't be able to download Play Store because the older application Android Market was used for these older versions. Your device might be able to update to a newer version of Android OS, but depending on the manufacturer and the carrier of your smartphone, the update might not be available on an older device. If your device lets you update to Android 2.3 or newer, do that first. If not, you can follow the same steps below but you will be looking for Android Market, not Play Store.
Next, you need to change your smartphone's security settings slightly so that the rest of the steps go smoothly. Go again to Settings and select Security. You need to select the option, "Unknown Sources- Allow installation of apps from sources other than Google Play Store".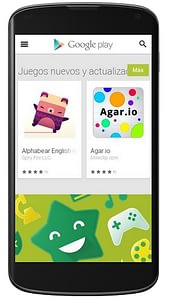 What we need to do now is find the APK file (.apk), which is the file format that Android operating system reads and executes, for Play Store. There are many sites on the internet where you can find this APK and download it (or the APK for Android Market, if your Android OS is older than version 2.3). The easiest way to do this is to search in your internet browser directly on your mobile phone, or, alternatively, you can find the APK on your computer and transfer the file to your phone with the USB cable.
If you've downloaded the APK file for Play Store directly to your smartphone, you can find the downloaded file easily in your notifications bar. If you transferred the APK from your computer via USB, you'll have to do some searching to see where it ended up. The best way to find the file is to download an Android file browser, which you can easily do by searching the internet on your device (many free options are available). Once you have the file browser on your smartphone, you can use it to find the Play Store APK file that you transferred from your computer.
Once you've found the Play Store APK that you downloaded, all you need to do is open it and there will be on-screen instructions to install the application. After following these instructions, you will have the latest available version of Play Store installed on your smartphone and will be ready to explore all of the cool content that Play Store has to offer.